In a bid for the world's most terrifying tourist attraction, China has unveiled a new glass-bottomed skywalk at the Ordovician park in Wansheng, China. The A-shaped "Sky Corridor" cantilevered walkway extends out 70 meters (about 229 feet) from the cliffside at the Wansheng Mountain Scenic Area. It's modeled after the Grand Canyon Skywalk, which sticks out a puny 21 meters (about 67 feet). Way to underachieve guys.
Don't Look Down
The structure is held up by thick cables, so nature lovers and thrill seekers alike are treated to a wide open and unfettered view of the gaping chasm below them. I wouldn't recommend going near it if you even have a touch of acrophobia (fear of heights).
Suspended at a vertigo-inducing 12 meters (400 feet) above the ground, even the most intrepid tourists can find it a bit daunting. No more than 30 people are allowed on the skywalk at any one time, a safety feature I can totally get behind. While some will pause to pose for photos and selfies, others find it all a bit too much to cope with and grip the handrail with both hands as they inch and shuffle along the walkway.
It's Record Breaking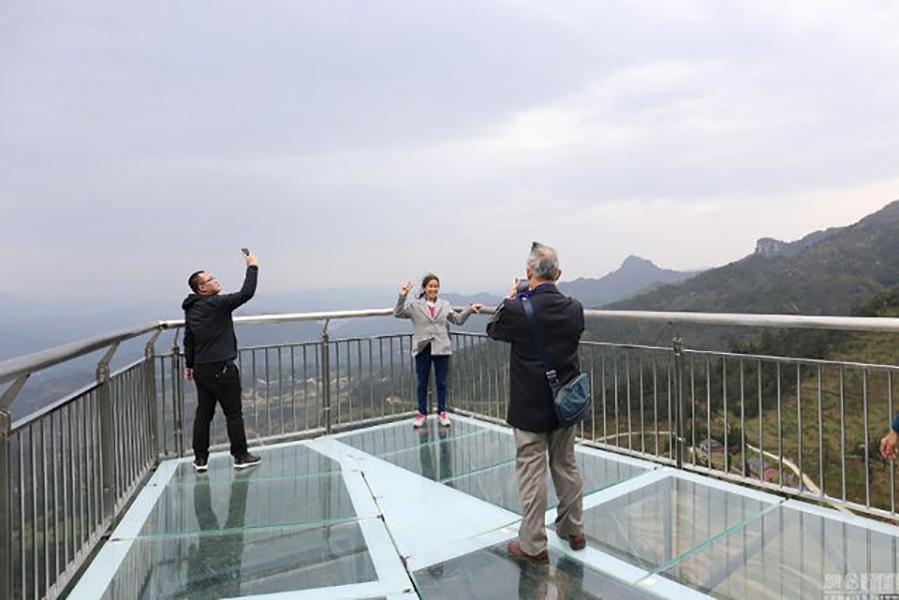 China is becoming well known for its impressive number of glass bottomed walkways. In June, one much-anticipated walkway attracted over 10,000 people to its official opening and had to be temporarily closed for safety reasons. Along the Dayudu Yellow River Scenic Area in Yucheng city, tourists can fly down the side of a mountain on a 1,640 foot slide that has a transparent bottom and sides. The new Sky Corridor in Chongqing was certified earlier this year by Guinness World Records as being the longest of its type anywhere on the planet.