Even if your not a fan of the hit show Rick and Morty you've probably seen it floating around on your news feed somewhere. This is because the show recently ran its third season and gained, even more, popularity than they could have imagined.
Well, apparently one of the earlier episodes featured a certain sauce from Mcdonalds that was released as a promotion for Disney's Mulan. Needless to say, most people didn't even remember the sauce until it was mentioned in the show.
As soon as the episode aired though, Schezuan Sauce immediately became a high demand item. Fans have literally been clamoring for months to get a hold of the stuff.
As luck goes Mcdonalds finally decided to make a batch and send it out to select stores. This was a one day only deal and had fans traveling across states to get a taste. To most fans dismay they ran out of the sauce pretty quick.
This is when fans took to Twitter to voice their complaints to Mcdonalds. Fans even took pictures with protest signs outside of their local locations to show their distaste.
Luckily, Mcdonalds has heard them and agreed to bring the sauce back to every Mcdonalds this winter. That means that every fan should easily be able to get their hands on the sauce and eat it as they please with an order of nuggets.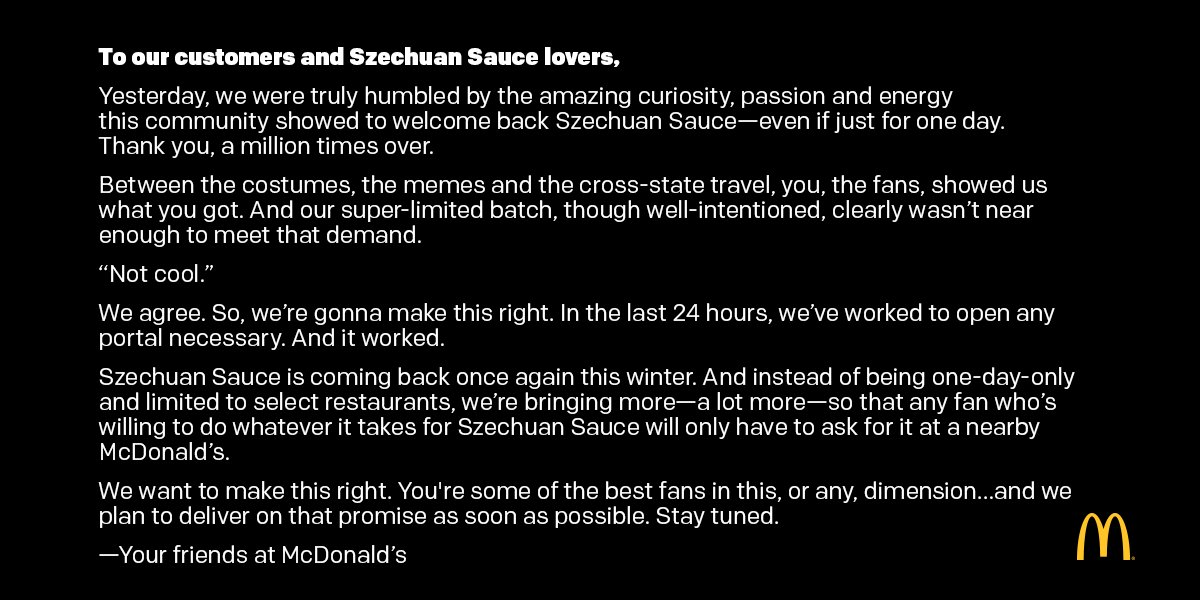 Hopefully, Mcdonalds will be able to keep up with demand this time. We can't exactly see the Rick and Morty fanbase backing down anytime soon.